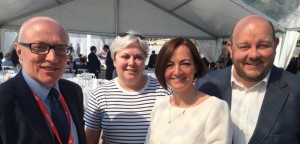 The first day of MIPIM is said to have brought a "very encouraging response" for the Chester delegation as it made its debut at the international property event.
Business leaders representing the city at the four-day exhibition in Cannes, France hosted a presentation about investment opportunities in the North West destination.
Anna Duffy, a founder of Chester firm DTM Legal which has helped finance the city's MIPIM attendance, says: "We've had a very encouraging response from a wide range of businesses and investors.
"The creation of more new Grade A office space in Chester will undoubtedly help attract in businesses and encourage those already here to flourish. But there are also investors, developers and occupiers interested in Chester for new hotels and retail."
Developer Guy Butler, who chairs the Chester Growth Partnership, has also welcomed the reaction to the delegation's first day at the event.
Butler says: "We worked with Cheshire West and Chester Council to create an investment map to showcase the long established financial services hub here but also companies which have either moved here more recently, such as Bristol Myers Squibb and Tetra Pak.
"With the arrival of the 70,000 sq ft One City Place by Chester railway station, we've taken the first step in the creation of a new business district in the city centre. There is much more to come. "Current investments in the city total around £700 million and we've outlined the vision that by 2028 Chester will offer up to 500,000 sq ft of Grade A Space."
Chester's presence at MIPIM is being supported by firms including Muse Developments, Marketing Cheshire, DTM Legal and Glenbrook Property.
As MIPIM continues with its second day today (16 March), the Liverpool delegation is set to take part in a panel presentation and Q&A entitled 'Using Retail and Leisure to Unlock Waterfront Regeneration'.
Hosted by Bilfinger GVA and Liverpool Vision, the session will see Mayor of Liverpool Joe Anderson join panellists from sea facing cities including Hamburg, Rotterdam, Oslo and Belfast.
Ahead of the event the Mayor says: "Our waterfront is a major USP for Liverpool, so it is important that we are at the forefront of bringing together European cities to discuss waterfront regeneration."
MIPIM will continue until 18 March, with a Manchester delegation also in attendance to represent the North West.