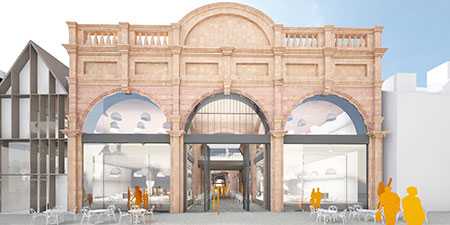 The latest plans for Chester's £300 million Northgate development can be seen at the Forum Shopping Centre 17 – 19 March.
The proposals for the new retail, leisure and residential development will be on display at a three day public exhibition in The Forum shopping centre, next to the Town Hall. Over the three days, the project team will be on hand to discuss this major investment in Chester with as many residents and businesses as possible and hear what they think about the Northgate regeneration proposals.
As well as new shopping (including a department store), a multi-screen cinema, cafés and restaurants, the development will deliver an improved local market, new homes above some of the shops and car parking.
The 'Northgate Consultation Shop' will be open as follows:
Thursday 17 March 2pm – 8pm
Friday 18 March 10am – 4pm
Saturday 19 March 10am – 4pm
All of the information that will be shown at the exhibition can also be seen on the dedicated project website: www.chesternorthgate.com  through which people can also find contact details for the team and submit their feedback. In addition, Chester Market is also hosting an exhibition of the plans.
Councillor Samantha Dixon, Leader of Cheshire West and Chester Council and City ward member, said: "Over 500 people visited the exhibition held in December and the responses carefully considered. This is another opportunity to talk to members of the project team and have your say on the most significant capital development in Chester for decades.
"The Chester Northgate project will transform the city centre, creating over 1,000 new jobs, increasing tourism and driving economic growth."
Councillor Stuart Parker, Opposition Spokesman for Culture, Leisure and Wellbeing, said: "It is vital that we can truly represent the wishes of residents living and working in Chester and visitors to the city.
"Research by international consultancy WYG has estimated that, by 2018, Chester will need to add almost 400,000 square feet of retail capacity to meet the anticipated levels of demand from population growth, continuing economic recovery and high levels of tourism."
The £300m project is a long-held strategic objective of the Council, ensuring West Cheshire is a great place to do business.
If people have any questions about the proposals or if they would like to register their interest in being kept informed about the Northgate development, they can do so by emailing: info@chesternorthgate.com or by calling: 0344 225 0003.