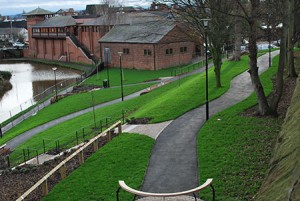 'Once more fit for a King', the gardens surrounding the King Charles Tower have now been landscaped presenting a much enhanced welcome to visitors arriving to Chester by canal, or bus when the new interchange opens next year.
The redevelopment project enhances the setting to the medieval tower once used as a meeting place for the Chester Guilds and where King Charles was said to have watched the skirmishes at the Battle of Rowton Moor.
Leader of Cheshire West and Chester Council, Councillor Samantha Dixon joined Richard Parry, Chief Executive of the Canal and Rivers Trust as well as representatives of Chester Canal Heritage Trust and Inland Waterways Association at the official opening of the gardens.
Councillor Dixon said: "A lot of hard work has been put in to transform what was previously an overgrown and neglected backwater into a beautiful and accessible garden.
"The garden now acts as a wonderful setting for the Chester City Walls, Shropshire Union Canal and King Charles Tower, which also now benefit from new architectural lighting. It is a great improvement for residents as well as the city's visitors arriving either on foot, bicycle or by boat."
The opening is the first project brought forward by Chester's Waterways Strategy, a scheme that gives a clear direction on how waterways can contribute to growth, investment and the leisure economy on both the River Dee and the Shropshire Union Canal.
The key principle of the new park is to reconnect Chester's waterways to the city and to open up views from the famous City Walls to the Shropshire Union Canal and Cow Lane Bridge.
There has been a complete transformation of the tower and gardens; the refurbishment has reclaimed a part of Chester that was derelict, people are now able to enjoy the greenery and heritage.
New architectural lighting for King Charles Tower, highlights Chester's beautiful heritage, enhancing the skyscape of the city, and improving the environment for the evening economy.
This improvement is one of the new developments happening in the coming months which include the multi-million pound improvement of Frodsham Street.