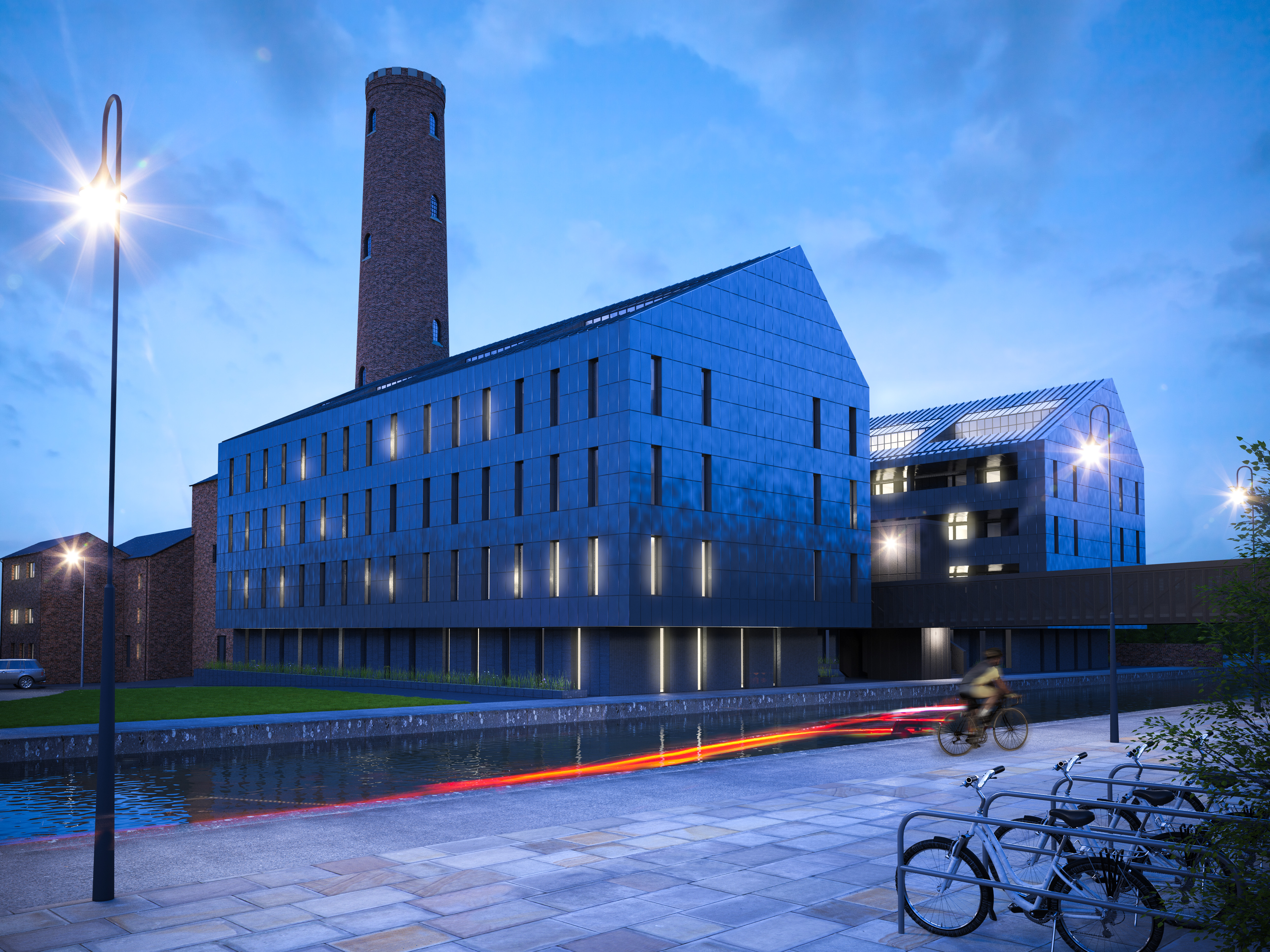 The redevelopment of a unique historic 18th century shot tower and former lead works site in Chester is now firmly back on track as Cheshire based developer, Whitecroft Group, gains planning approval for its new flagship residential scheme.
Designed by award-winning international architects Broadway Malyan, the residential scheme will deliver 65 one, two and three bedroom apartments. In-line with the previously consented scheme which was approved back in 2014, the Engine House and Whitechapel buildings will be retained and sympathetically restored to form 9 luxury apartments.
A NEW TWIST ON A UNIQUE PIECE OF CHESTER'S HERITAGE
Boasting an eclectic mix of authentic charm and contemporary design, this key historic landmark, which is the oldest and largest of just three remaining shot towers in the UK, will be completely renovated and updated to revolutionise the site into Chester's prime residential living space.  The vast £15 million transformation will include modern new wings connected by a main circulation core; three multi-level tower passageways revealing an imposing 168 ft. ceiling height with artistic sculpture, and a complete overhaul of the outer communal spaces to create a vibrant hub to live and socialise.
The red brick façade of the tower complimented with modern new structures will create a striking landscape in the heart of Chester with stunning canal-side views, setting a new precedent for the quality and pricing of housing in the area. The base of the phenomenal Shot Tower will form a unique Heritage Interpretation Centre showcasing the historical elements of the site and be accessible to selected tours and local interest groups.
David Giovanni, managing director at Whitecroft comments: "Whilst the site has been met with some controversy over the past several years, we're confident that our plans will completely revive this former derelict site and more importantly, come to fruition."
"Previously, the tower has received planning permission for a residential and commercial scheme however, this was never progressed. Since our involvement, Whitecroft has noted and incorporated feedback from English Heritage, Cheshire West and Chester Council whilst working alongside residents and surrounding businesses to ensure that the lines of communication are open."
"Throughout the pre-planning phase, Whitecroft has actively engaged with local resident groups and the local ward councillor to discuss our proposals. We're pleased that our plans received a positive reaction and have now, after seven long months, gained planning approval.  Despite its previous history, people are keen to see this scheme actually delivered and whilst we understand the development will be met with some apprehension, we hope that our intentions to restore and preserve this key landmark building is met with enthusiasm."
"The area has undergone a vast amount of regeneration with the creation of the £100m Central Business Quarter and the opening of Waitrose just across the water; the Shot Tower is the next piece of the jigsaw."
Whitecroft's ambitious plans are set to transform this former derelict site into a vibrant residential hub and ultimately, Chester's most desirable address.