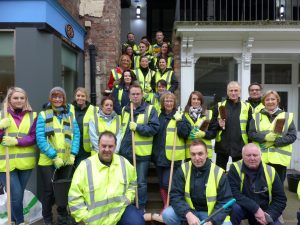 Chester's historic 13th century rows have been given a sparkling spring clean thanks to the efforts of volunteers from CH1ChesterBID, city centre businesses and Cheshire West and Chester Council.
More than 30 people joined the two-day clean up over the weekend, which was organised by CH1ChesterBID – Chester's Business Improvement District (BID) company – in support of Keep Britain Tidy's Great British Spring Clean campaign.
On Friday, a team of Cheshire West and Chester council officers, including council leader Samantha Dixon, put on their rubber gloves and tackled Bridge Street Rows, dusting off cobwebs, mopping the Rows and removing chewing gum.
And two days later a second team made up of city centre retailers including Marks & Spencer and Wilko in partnership with CH1ChesterBID staff and a local Healthy High Streets team, rolled up their sleeves and repeated the effort as they spruced up the Rows of Eastgate Street.
City centre retailers Caffe Nero and Greggs also supported the event by providing the volunteers with free hot drinks throughout the clean up.
City centre manager at CH1ChesterBID Nick White said: "It's fantastic to see everyone coming together to give our historic rows an early spring clean. Every year the Great British Spring Clean inspires people to volunteer their time for local clean-ups and we're really pleased to bring this national campaign to Chester and create a clean and welcoming environment for city visitors and local residents.
"The rows are a crucial part of Chester's history and I'd like to thank everybody who gave up their time, particularly the local Healthy High Streets team who put in such a sterling effort and Wilko and Cheshire West and Chester Council for providing the cleaning equipment over the weekend.
Council leader councillor Samantha Dixon said: 'We were delighted to participate in this clean-up and enjoyed working closely with CH1ChesterBID and our other city centre partners. Our street cleaners work tirelessly to clean the city so this clean-up was really about adding even more sparkle to one of Chester's most iconic features.
"Chester's history is one of the city's unique selling points, with particular architectural and social heritage merit, so it's really important that together we do everything we can to look after it and make sure it's looking its best all year-round. What is often forgotten is that many people live above the rows so I'm sure the local residents will have been pleased to see the spring clean."
Further clean up events for Northgate and Watergate Rows are scheduled to take place later this month, with CH1ChesterBID working closely with Chester's local Healthy High Streets team, which aims to revitalise high streets and engage large businesses in their local communities.
Charity and community coordinator at Wilko, Hannah O'Sullivan, said: "As a family run business, supporting great work in our communities is at the heart of what we do at Wilko, helping to cement our place within the local communities we serve and enabling hard working families to be the best they can be. We're extremely proud of our team members for all the hard work they have put in for the Chester Healthy High Street Programme."